Why Goyard Remains Fashion's Most Mysterious Luxury Brand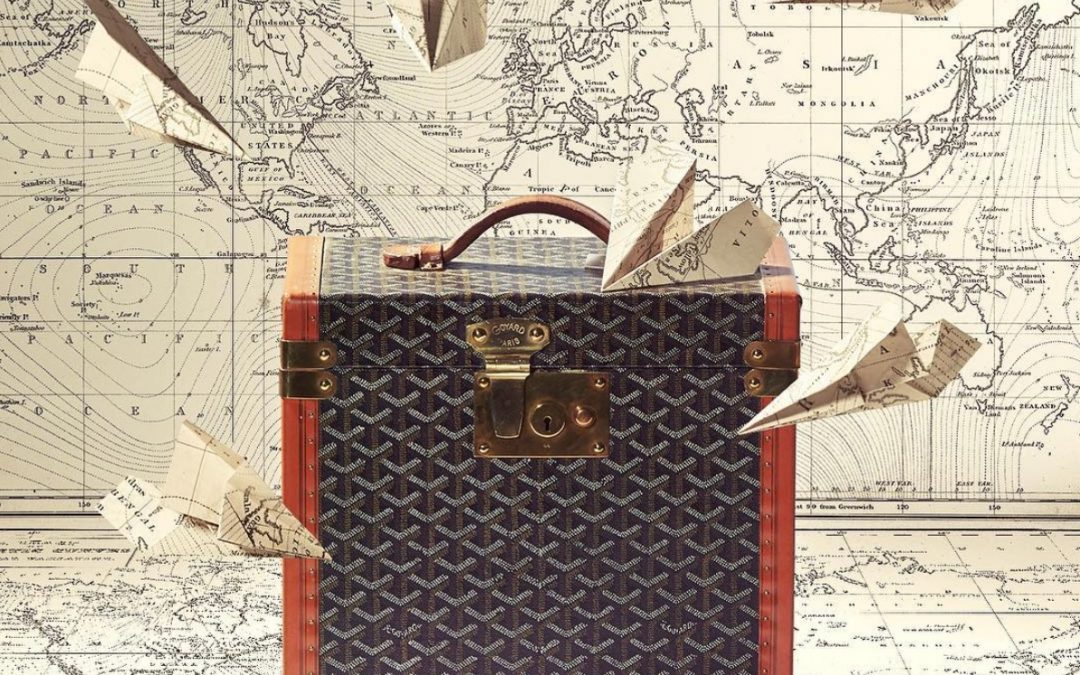 Since Goyard's inception some 161 years ago, the trunk and bag-maker has maintained a mysterious and impressive reputation based on quality and prestige. The House of Goyard came to life just one year before Louis Vuitton was established. The brand has built its business on discretion, creating an elusiveness that makes it the ultimate status symbol for rich people. With zero advertising, no e-commerce, and very few stockists, they've managed to protect their legacy while also building a buzz, simultaneously keeping their mouths shut—and everyone else out.
Elusive and Unknown
The name of this two-century-old Parisian brand may not ring a bell the way other luxury fashion houses do, but Goyard's elusiveness is exactly what makes it the ultimate status symbol among the world's wealthiest people.
In today's retail landscape where companies are forced to rely on digital sales and social media engagement, Goyard shuns it all and still manages to hold its own against some of the most coveted brands in the world. How does it maintain this status? Certainly not by engaging with the media. When Racked reach out with an interview request, they politely declined and explained that their "official policy is to not speak directly to the press," and that this is something they "literally never do." They also noted that the brand "firmly believes in values such as exclusivity and discretion" and suggested we reach out to Chanel's Karl Lagerfeld for comment instead.
"In the five years I've been covering Goyard, the interest around the brand has been consistent, even more than Hermès, which is impressive," explained Amanda Mull, the managing editor of the bag-obsessive site PurseBlog and has never gotten through to the company herself. "While other brands provide more seasonal flourishes or hire new creative directors to bring in some modernity, Goyard keeps being Goyard. They keep their heads down and keep doing what they do."
"Luxury is a dream, and revealing too much of what goes on behind the scenes would spoil the magic," a representative for the House of Goyard told Hypebeast, adding: "We believe that whispering softly in someone's ears is not only more elegant, but also much more efficient than screaming at the top of one's lungs."
Its mystery demands desire. Everyone loves a sense of exclusivity, and what's more exclusive than a brand whose heritage and allure is based on discretion, garnering business solely through word of mouth of its influential clients?
As Sarah Young of the Independent writes of Goyard's anti-spotlight stance: "Those who know, know. For them, it's all about attracting the people who count."
After all, high-end brands risk losing their luster and jeopardizing their exclusivity if they fall into the everyday hands of mass consumption. Goyard's under-the-radar reputation is the pinnacle of ultimate indulgence for its buyers.
What Is Their Strategy
While competing brands like Gucci and Chanel are focused on opening dozens of impressive flagship stores around the world and expanding their footprint via collaborations, celebrity endorsements, and blockbuster fashion shows, Goyard is solely focused artisanal craftsmanship in one product category, which explains why there's such a limited supply of merchandise.
"Their brand is not just about legacy and heritage, it's also about functionality," Rati Levesque, Chief Merchant of luxury resale site The Real Real, noted. "Their bags are easy, light, and well-made. The brand holds resell value because it's like an heirloom. It's an insider's bag, but it doesn't scream luxury."
Secrecy is also part of the appeal. Back in 2010, when the brand came out with an art book which Suzy Menkes dubbed "a luxury bible," only 233 copies were distributed; a copy of the book is available for viewing by appointment at its Paris shop.
The inaccessibility works: Discussions about Goyard on handbag forums are prevalent, the bags sell on eBay for almost the same as retail price, and interest in the brand has steadily increased according to Google Trends.
"I think there is always an allure to a bit of mystery," Bergdorf's Soss said. "Goyard's confidentiality and exclusivity is definitely a contributing factor to a man or woman's desire to purchase, especially when they do have a vast amount of options when purchasing accessories. Customers gravitate to a timeless brand that is not trend-focused."
This exclusivity surprisingly doesn't come at an insane cost either. A classic Goyard tote will run you $1,150, while the similarly-sized Louis Vuitton one rings up at $1,810. And yet, even with higher price points, big fashion brands like Vuitton lose their status by churning out huge volumes of product—a true paradox many brands are struggling with as the internet all but does away with barriers to luxury.
"This is precisely the Achilles' heel with a brand like Louis Vuitton, that has become way too popular," explained luxury retail analyst Pam Danziger. "They've become too familiar and have reached a common place. If everyone has their mass market products, it's less desirable. Goyard holds its traditional craft-oriented roots that truly has a limited supply because that's what their commitment is about."
Privately-owned Goyard, Danziger also noted, doesn't have to answer to stakeholders and corporate executives—a position most fashion brands don't have the privilege of holding. The biggies owned by public behemoths like LVMH (Louis Vuitton, Dior, Celine, Fendi, Givenchy, Marc Jacobs and Bulgari) and Kering (Alexander McQueen, Balenciaga, Bottega Veneta, Gucci, and Saint Laurent) are fueled by numbers rather than reputation maintenance, and with earnings expectations to meet, protecting their brand becomes secondary.
Some History
Pierre-François Martin founded the House of Martin in 1792. It specialized in box-making, trunk-making and packing, at a time when the golden age of the great trunk-makers of the late XIXth century was yet to come. The house of Martin quickly became a favourite with the French aristocracy.
Pierre François Martin was the guardian of a young female ward, Pauline. He arranged her marriage to one of his employees, Louis-Henri Morel, and gave his business as her dowry. Morel followed in Martin's footsteps.
In 1845, Morel hired François Goyard as an apprentice. The 17-year old boy received training under the guidance of both Martin and Morel. When Morel died suddenly in 1852, François took over, and remained for 32 years at the helm of a house he took to a whole new level. He finally handed over the reins to his son Edmond in 1885.
Drawing on his father François' work, Edmond Goyard turned the store on rue Saint-Honoré into an increasingly elitist institution with an international clientele. One of the first things François Goyard did when he took over from Morel was to open state-of-the-art workshops, as he believed having complete control over manufacturing processes was key to achieve excellence. An opinion shared by Jean-Michel Signoles when he bought Goyard in 1998.
Without the backing of a leading group, and with complete disregard for marketing or mass-production, the Signoles family revived Goyard's heritage and skills and opened new boutiques across Europe, the Americas and Asia. Within a decade, they restored Goyard to its original glory, and firmly re-established it as a beacon of timeless elegance, craftsmanship and exclusivity.
Clientele
Since its doors first opened in 1853, Goyard has been a favourite with celebrities, and many illustrious artists, captains of industry, heads of state or royals have sported its creations. The names of the leading personalities of the 19th and 20th century are to be found in Goyard's filing cabinet, which keeps track of each and every order placed by customers through a system of nominal index cards.
Upon reading the files, one may daydream easily about the extraordinary and not so unlikely encounters that could have taken place at 233, rue Saint-Honoré: Pablo Picasso and Sacha Guitry, the Maharadjah of Kapurthala and Jacques Cartier, the Agnellis and the Rockefellers, the Romanovs and the Grimaldis, Estée Lauder and Barbara Hutton, Mrs Pompidou and the Princess Aga Khan, Coco Chanel and Jeanne Lanvin, Romy Schneider and Sarah Bernhardt, Edith Piaf and Arthur Rubinstein, Cristobal Balenciaga and Karl Lagerfeld…
The latter, whose account was open in 1972, is highly emblematic of Goyard's unique ability to build long-term relationships with its clientele, whether they are famous or anonymous. It is not uncommon for Goyard customers to have accounts that remain active for decades: the Duke and Duchess of Windsor opened theirs in 1939, and it was closed only after the demise of the Duchess in 1986.
The coveted chevron-printed canvas and leather luggage has been seen accompanying everyone from the newly named Duchess of Sussex, Meghan Markle, to the actress Gwyneth Paltrow, to the Michelin-starred chef Alain Ducasse, who has a custom trunk for his cutlery.
Goyard is also increasingly popular among hip-hop's elite. The rapper A$AP Rocky wore a Goyard messenger bag to the 2016 Grammy Awards, and Kanye West sported a Goyard briefcase during Paris Fashion Week in 2009.
And the apple doesn't fall far from the tree — West's daughter North was spotted in Los Angeles in February with a personalized Goyard St. Louis bag, costing roughly $1,460 after customization. Meanwhile, her aunt Khloe Kardashian jetted to Tokyo with her belongings packed in not one but two customized Goyard bags.
They're part of an impressive list of clients including Coco Chanel, Sir Arthur Conan Doyle, Jacques Cartier, Pablo Picasso, Karl Lagerfeld, and the Duchess of Windsor, who collected many Goyard pieces, such as pet accessories and a trunk to accommodate 150 pairs of shoes.
Goyard's owner, Jean-Michel Signoles, purchased much of the duke and duchess' collection when Sotheby's auctioned off the contents of their Paris home in 1997. A document case and monogrammed trunk went for nearly $15,000, while another lot sold for $32,500, Town & Country reported.
That's nothing compared to one of Goyard's 19th-century-style trunks that fetches $59,315, according to the Business of Fashion. The Palace trunk costs $10,120, with additional customization beginning at $165.
Will Goyard Keep Its Ground?
While Goyard's mystery marketing strategy, or lack thereof, has worked for the past century and a half, not everyone is convinced its methods will prevail in the long run. PurseBlog's Mull, for one, believes Goyard's isolation may ultimately be harmful. Luxury brands must brace themselves for internet-native millennial shoppers who spend $600 billion annually, and Goyard could fail to engage young consumers unless it dabbles in some sort of e-commerce. However, Eugene Kan, managing editor of men's style site HYPEBEAST, mused that market domination has certainly not been on Goyard's agenda, and may very possibly never be.
"With Goyard, there's a notion of having that one foot in the door where enough people know, care, recognize, and yearn for it," said Kan. "It's important to note that in reality, a brand's interests may not be to blow up and make massive amounts of money, but rather create the absolute best possible product period."
Why Goyard Remains Fashion's Most Mysterious Luxury Brand