The Most Luxurious Planners and Agendas for 2019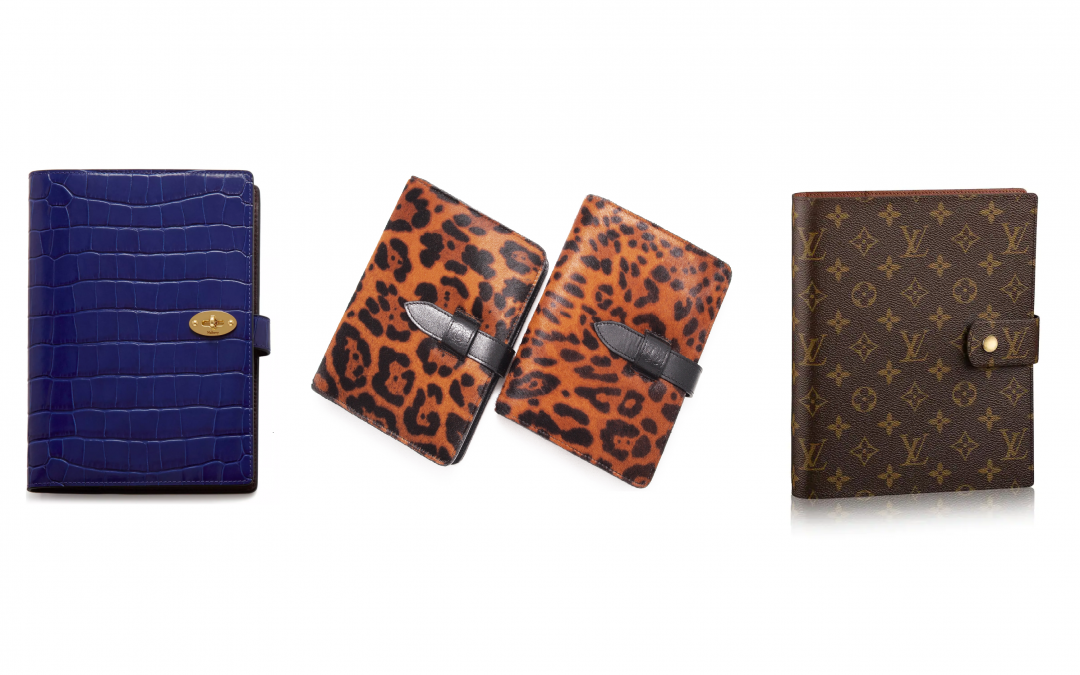 Christmas is knocking on our doors and if you are still wondering what to get your loved ones we have prepared a list of agendas that will put a smile of the face of any planner addict or fashion lover. Here are some of the most luxurious planners that, at the end of the year, are worthy of archiving rather than recycling.
Let us start with a British classic: Smythson of Bond Street. Rooted in deep heritage, the brand represents over 125 years of British luxury leather goods at their most refined, with an enduring dedication to unrivalled craftsmanship. Smythson has long catered to the highly discerning, from European Royalty and the Indian Maharajas to the likes of Grace Kelly, Katharine Hepburn, Claudette Colbert and Vivien Leigh. Influential figures, leading extraordinary lives, from Sigmund Freud to Sir Winston Churchill, recognised the timeless purity of Smythson's creations.
Here is the Grosvenor Dukes Organiser. Crafted from a hardworking leather that's smooth with a hint of structure, bestowing exceptional durability and resilience, it takes life's demands in its stride. This refined leather organiser features a gilded Panama pencil, gilt-edged, pale blue note sheets, and dividers in Smythson's signature Nile Blue.
We are continuing again with a classic, but this time Italian: Pineider. 240 years ago, in 1774 Mr. Francesco Pineider opened his first shop in Florence, producing exclusive hand-engraved personalized paper. Pineider soon became the stationer of choice for the European bourgeoisie who appreciated the uniqueness of its products and asked for made-to-order visiting cards and writing paper with elegant embossed characters, coats of arms and escutcheons engraved in gold, using a technique perfected by Renaissance goldsmiths. Legend tells us that Napoleon was among the travelers who entered the historical Pineider shop, which was appreciated by authors, artists and poets, such as Stendhal, Lord Byron, Percy B. Shelley, Elizabeth Barrett Browning, Giacomo Leopardi and Charles Dickens. Embassies, Ministries, State Offices and The Savoy Royal Family were customers of the Pineider shop.
Here is the Country collection, informal and young, made in smooth, hammered calfskin. The collection appeals to a sophisticated and lively clientele, who love style and elegance both at work and in their active social and sport life. Country introduces today some new proposals, in particular for women and for travels. Diary included.
The list cannot be full without the fundamentally British brand Mulberry. Born in 1971, the roots of Mulberry are in Somerset, England. Mulberry's founder, Roger Saul, established the brand at his kitchen table, with £500 backing from his mother. His sister designed the instantly-recognisable tree logo – both that, and the name "Mulberry" come from the trees he would pass each day on his way to school. Early inspiration was drawn from the styles synonymous with English rural pursuits – hunting, shooting, fishing – and Mulberry's immediately-identifiable, utterly individualistic style came to be dubbed "Le Style Anglais" in 1975. Between town and country, between Somerset serenity and London pace, Mulberry combines authentic, age-honoured craft with an innovative fashion character.
Part of their iconic Planner and Agenda range, the Postman's Lock Notebook Cover is a smart and timeless leather casing for a simple A5 notebook, featuring their iconic Postman's Lock closure.
Louis Vuitton is one of the world's most coveted and copied luxury brands. When fashion designer Louis Vuitton first arrived in Paris in 1837, the city had yet to unfold as a fashion and design capital. But it was here that Vuitton founded his luggage empire and, just a quarter century later, opened the world's largest store of travel items at 70 avenue des Champs-Élysées. Vuitton's wanderlust remains integral to the brand today. Fashionable figures like Coco Chanel, Hélène Rochas, and the Rothschild family all sported Louis Vuitton luggage. The Duke and Duchess of Windsor's wardrobe case had plenty of room to pack their attire for lavish functions during trips. Vuitton's fortunes rose in 1853 when he was appointed the personal box-maker and packer of the Empress of France, Eugenie de Montijo – the wife of Napoleon Bonaparte.
This large ring agenda cover is made from their signature monogram canvas. It has a press stud closure, a six-ring binder, separated into two groups of three, credit card slots and several compartments. The agenda refill is available separately.
Another luxury agenda you can opt for is the large organizer with zip of Montblanc (although known mostly for its writing gear) . Montblanc's tale began with the creation of their Meisterstück fountain pen in 1924. It will soon became the ultimate symbol for writing culture and the style icon for perfect timeless design. Perfectly handmade with the finest of European craftsmanship, the iconic writing instrument has secured cult status – and the brands affair with writing instruments did not stop there. It has grown to include a variety of magnificent collections, including the bejeweled Bohème and sleek, contemporary Starwalker, among venerated others. Montblanc also produces splendidly crafted leather products, elegant jewelry, enthralling fragrances and contemporary eyewear. "May I help you, Mr. Adenauer?" – John F. Kennedy helped the German chancellor Konrad Adenauer out of a predicament by offering him the use of his "Meisterstück 149" fountain pen.
Here we have a large organizer with zip, made of black European full-grain cowhide with unique Montblanc deep shine, jacquard lining with Montblanc brand name, metal zip, and a Montblanc emblem with palladium-finish ring, with rings for organization sheets, 16 pockets for credit cards, 3 pockets for large documents, additional pocket, loop for writing instrument the size of a Meisterstück Classique or LeGrand.
If you want something modern and fresh, then the more contemporary brand Anya Hindermarch is a great option. Anya founded her business in London in 1987 and has since grown into a global brand that has over 45 stores – including flagships in New York, London, Tokyo and LA – and is stocked in many of the world's best retail stores, from Barney's in New York to Lane Crawford in Shanghai. The first accessories designer to hold an on-schedule London Fashion Week show, Anya Hindmarch shows have become renowned for their production and creativity. Highlights include models emerging from within a giant space-age Amphitheatre, an architectural mountainscape that took models and the audience on a journey through old Norse folklore. Creativity, modern craftsmanship and personalisation sit at the heart of everything Anya Hindmarch does. The launch of Stickershop shaped a global cult of leather stickers, allowing customers to create their own personal artwork. Taking an obsession with craftsmanship and personalisation a step further, Anya Hindmarch launched the Build A Bag concept in May 2017, which unlocks hundreds of different combinations making each bag as unique as their owner.
This luxurious refillable journal can be used year after year. Flip your journal to move between the different sections which come filled with refillable pads and signature retractable gold plated pencil. The front of your journal and individual pen loops can be embossed with your own choice of labels to make it truly unique. Crafted from luxuriously soft butter leather, the cover can be personalised with an embossed name, initials, handwritten message or drawing.
Another modern brand that can give you a luxury agenda that can be fully personalised: from the colour of the leather to the colour of the thread. Founded in 1994, LUCRIN is a collection of beautifully designed everyday leather essentials that are colorful, timeless and easy to personalize. Lucrin Geneva is a dynamic and innovative 25 year old Swiss luxury leather company that captivates the attention of thousands of leathercraft connoisseurs and customers across the world through its unique designs, colors and styles. Its ability to customize each product with utmost perfection makes each Lucrin creation unique. Heavily influenced by the prestigious watch industry, it pays tribute to high quality and sublime craftsmanship in every piece it produces.
Here we have a large leather organiser that is both elegant and indispensable.The interior consists of 3 pockets for credit cards and weekly sheets in 6 languages. The organizer comes including 1 calendar week on 2 pages, telephone directory, a memo and a block note.The agenda runs from January to December.
If you want a unique agenda that will definitely set you apart from the rest of the crowd, then you have to opt for Gyllium. It is a premium brand that specialises in the design and development of high-end luxury leather accessories and writing materials that are handmade by true artisans. Every Gyllium piece is a piece of art. It is crafted by hand and has gone through the thorough inspection of many craftsmen and mavens before it is delivered in your hands. Each agenda is made of the highest quality genuine leather or fur and refined to the smallest detail. Limited couture collections will be periodically designed, reflecting major fashion trends but carrying the Gyllium essence of exclusivity and splendour. Every Gyllium has a unique serial number that can be found on the hologram sticker and on the Card of Authenticity.
Here we have The Audacious made of genuine lustrous fur with monogram details. It is lightly scented with a unique perfume designed especially for the Gyllium brand. On the inside, the delicately tinted pages in the color purple and branded with the Gyllium signature contain the ultimate combination of agenda sections that one would need. The Eternal Winter agenda was recently featured in VOGUE Arabia, British Vogue and was featured in the new book of the Rolls Royce Club.
Slowly going back to the older and more well-known brands, we are moving to Caran d'ache. Located in Geneva since its inception in 1915, the Maison is committed to creating and developing writing and drawing instruments combining the finest materials with the most advanced, innovative skills – including some that are extremely rare, such as the exceptional art of authentic Chinese lacquer done by hand in the ancestral manner. Caran d'Ache is the pen name by which Russian-born French illustrator, Emmanuel Poiré, achieved worldwide renown in the 19th century. The choice turned out to be a salient one, since "karandash" is the Russian term for "pencil" and in turn comes from the Turkish root "kara tash" which refers to black stone – the origins of graphite. This natural material found in the mountains of Switzerland gave rise to the first Swiss pencil factory set up in Geneva in 1915. Nine years later, in the hands of its founder, the visionary Arnold Schweitzer, it took the name of the famous illustrator and became known as Caran d'Ache.
Vibrant and charming, this velvety calfskin leather is declined in a shimmering red. This practical Léman Red leather notebook A5 comes with an integrated pen holder for your Léman writing instrument. It matches all the leather goods in the collection to suit your needs.
The brand is considered to be one of the top names in luxury products globally. Cartier really started back in 1847 by Louis-Francois Cartier in Paris. Even as a jeweler Louis-Francois had an early fascination with timepieces and understood their importance alongside precious stones and art. Cartier was able to get close to important and royal families in Europe. By outfitting the best families with the best things, his reputation grew and was eventually called the "Jeweller of King and the King of Jewellers" by the British royal family. As a watch and clock maker Cartier is credited with reviving a number of almost lost arts in horology. Some of their most important historic pieces are elaborate "mystery" clocks which include beautiful bases and designs. The "mystery" part of the clock refers to the fact that the connections for the hour and minute hands are usually invisible, making it appear as though they are floating.
Here we present Must de Cartier black calfskin desk diary. The exterior is with embossed double C logo and stainless steel metallic-finished corners. The interior is from burgundy calfskin with silver "Cartier" marking. The diary cover is sold with a refill.
We are going to end our article with the most expensive item on our list: Hermès Vision II agenda cover. In 1837, Thierry Hermès (1801–1878) first established Hermès as a harness workshop on the Grands Boulevards quarter of Paris dedicated to serving European noblemen. He created some of the finest wrought harnesses and bridles for the carriage trade. Over the following decades Hermès developed into one of the most famous saddlery retailers and they also began to produce leather bags to feed the horse, to house the saddles and to carry other accessories for riders such as boots, whips and riding hats. The horse really was the first Hermes client. The Parisian shop first opened in 1837, but didn't enter the world of luxury handbags until 1922. Their first celeb-endorsed bag was the "Sac à dépêches," which was later renamed the "Kelly" bag after being widely photographed on the arm of Princess Grace of Monaco. Both the Kelly and Birkin designs are supposedly based off of an Hermès bag from 1892 called the "Haut à Courroies," which was inspired by horse feed and saddle bags.
Shown here is Hermès leather notebook cover made from ostrich leather with leather tab with silver and palladium snap closure.