The Most Luxurious Planners and Agendas for 2018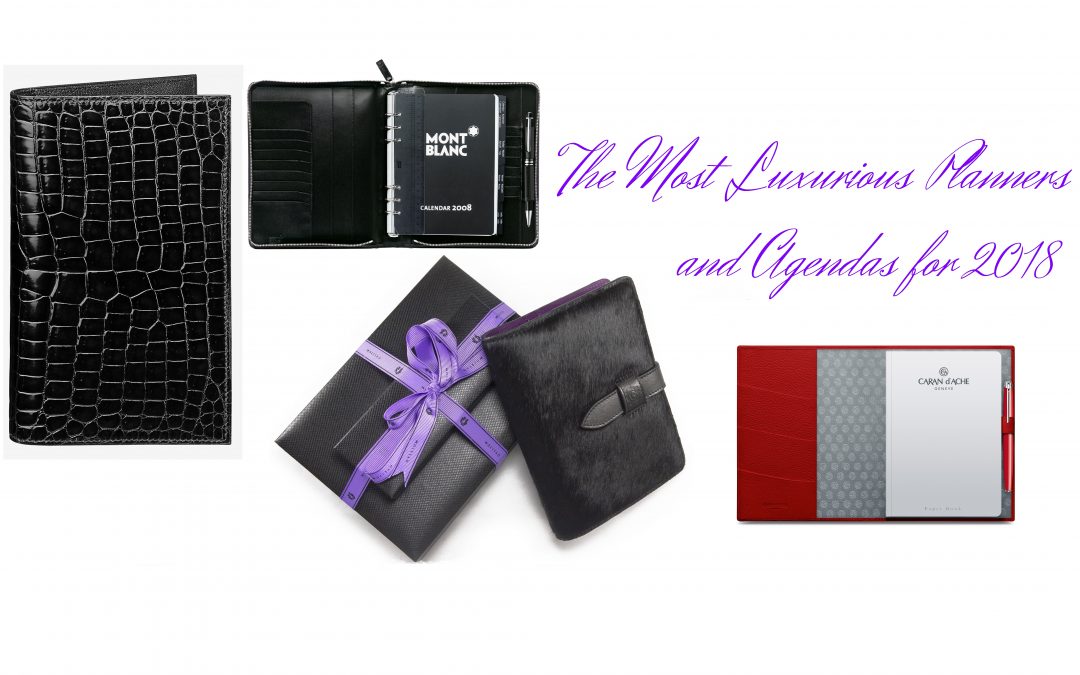 The new year has begun and if you are a planner lover and you feel in control when you have organised your days, you definitely need an agenda to accompany you in your journey through life. Here are some of the most luxurious planners that, at the end of the year, are worthy of archiving rather than recycling.


Let us start with a British classic: Smythson of Bond Street. Rooted in deep heritage, the brand represents over 125 years of British luxury leather goods at their most refined, with an enduring dedication to unrivalled craftsmanship. Smythson has long catered to the highly discerning, from European Royalty and the Indian Maharajas to the likes of Grace Kelly, Katharine Hepburn, Claudette Colbert and Vivien Leigh. Influential figures, leading extraordinary lives, from Sigmund Freud to Sir Winston Churchill, recognised the timeless purity of Smythson's creations.
Here is a brown Wilde pocket memo in exotic alligator skin. It comes with three white wove watermarked memo slips. Smythson's Wilde collection is crafted from the finest alligator skin and has been made to last a lifetime.
We are continuing again with a classic, but this time Italian: Pineider. 240 years ago, in 1774 Mr. Francesco Pineider opened his first shop in Florence, producing exclusive hand-engraved personalized paper. Pineider soon became the stationer of choice for the European bourgeoisie who appreciated the uniqueness of its products and asked for made-to-order visiting cards and writing paper with elegant embossed characters, coats of arms and escutcheons engraved in gold, using a technique perfected by Renaissance goldsmiths. Legend tells us that Napoleon was among the travelers who entered the historical Pineider shop, which was appreciated by authors, artists and poets, such as Stendhal, Lord Byron, Percy B. Shelley, Elizabeth Barrett Browning, Giacomo Leopardi and Charles Dickens. Embassies, Ministries, State Offices and The Savoy Royal Family were customers of the Pineider shop.
Here is an underarm document case with zip made from genuine Italian leather tanned with vegetable extracts, following the most ancient tradition of Tuscany, using tannins of oak and chestnut trees.
The list cannot be full without the fundamentally British brand Mulberry. Born in 1971, the roots of Mulberry are in Somerset, England. Mulberry's founder, Roger Saul, established the brand at his kitchen table, with £500 backing from his mother. His sister designed the instantly-recognisable tree logo – both that, and the name "Mulberry" come from the trees he would pass each day on his way to school. Early inspiration was drawn from the styles synonymous with English rural pursuits – hunting, shooting, fishing – and Mulberry's immediately-identifiable, utterly individualistic style came to be dubbed "Le Style Anglais" in 1975. Between town and country, between Somerset serenity and London pace, Mulberry combines authentic, age-honoured craft with an innovative fashion character.
Crafted from supple grained leather, this notebook cover is sold with an A5 notebook. Featuring two internal slip pockets and nappa leather lining, it effortlessly closes with an all-around zip. The front is subtly embossed with the brand's signature. It has one notebook compartment and one document or iPad sleeve.
Louis Vuitton is one of the world's most coveted and copied luxury brands. When fashion designer Louis Vuitton first arrived in Paris in 1837, the city had yet to unfold as a fashion and design capital. But it was here that Vuitton founded his luggage empire and, just a quarter century later, opened the world's largest store of travel items at 70 avenue des Champs-Élysées. Vuitton's wanderlust remains integral to the brand today. Fashionable figures like Coco Chanel, Hélène Rochas, and the Rothschild family all sported Louis Vuitton luggage. The Duke and Duchess of Windsor's wardrobe case had plenty of room to pack their attire for lavish functions during trips. Vuitton's fortunes rose in 1853 when he was appointed the personal box-maker and packer of the Empress of France, Eugenie de Montijo – the wife of Napoleon Bonaparte.
This large ring agenda cover is made from their signature Epi leather discreetly stamped with the LV initials and with cross grain leather lining. It has a press stud closure, a six-ring binder, separated into two groups of three, credit card slots and several compartments. The agenda refill is available separately.
Another luxury agenda you can opt for is the large organiser with zip of Montblanc (although known mostly for its writing gear) . Montblanc's tale began with the creation of their Meisterstück fountain pen in 1924. It will soon became the ultimate symbol for writing culture and the style icon for perfect timeless design. Perfectly handmade with the finest of European craftsmanship, the iconic writing instrument has secured cult status – and the brands affair with writing instruments did not stop there. It has grown to include a variety of magnificent collections, including the bejeweled Bohème and sleek, contemporary Starwalker, among venerated others. Montblanc also produces splendidly crafted leather products, elegant jewelry, enthralling fragrances and contemporary eyewear. "May I help you, Mr. Adenauer?" – John F. Kennedy helped the German chancellor Konrad Adenauer out of a predicament by offering him the use of his "Meisterstück 149" fountain pen.
Here we have a large organizer with zip, made of black European full-grain cowhide with unique Montblanc deep shine, jacquard lining with Montblanc brand name, metal zip, and a Montblanc emblem with palladium-finish ring, with rings for organization sheets, 16 pockets for credit cards, 3 pockets for large documents, additional pocket, loop for writing instrument the size of a Meisterstück Classique or LeGrand.


If you want something modern and fresh, then the more contemporary brand Anya Hindermarch is a great option. Anya founded her business in London in 1987 and has since grown into a global brand that has over 45 stores – including flagships in New York, London, Tokyo and LA – and is stocked in many of the world's best retail stores, from Barney's in New York to Lane Crawford in Shanghai. The first accessories designer to hold an on-schedule London Fashion Week show, Anya Hindmarch shows have become renowned for their production and creativity. Highlights include models emerging from within a giant space-age Amphitheatre, an architectural mountainscape that took models and the audience on a journey through old Norse folklore. Creativity, modern craftsmanship and personalisation sit at the heart of everything Anya Hindmarch does. The launch of Stickershop shaped a global cult of leather stickers, allowing customers to create their own personal artwork. Taking an obsession with craftsmanship and personalisation a step further, Anya Hindmarch launched the Build A Bag concept in May 2017, which unlocks hundreds of different combinations making each bag as unique as their owner.
This luxurious refillable journal can be used year after year. Flip your journal to move between the different sections which come filled with refillable pads and signature retractable gold plated pencil. The front of your journal and individual pen loops can be embossed with your own choice of labels to make it truly unique. Crafted from luxuriously soft butter leather, the cover can be personalised with an embossed name, initials, handwritten message or drawing.


Another modern brand that can give you a luxury agenda that can be fully personalised: from the colour of the leather to the colour of the thread. Founded in 1994, LUCRIN is a collection of beautifully designed everyday leather essentials that are colorful, timeless and easy to personalize. Lucrin Geneva is a dynamic and innovative 25 year old Swiss luxury leather company that captivates the attention of thousands of leathercraft connoisseurs and customers across the world through its unique designs, colors and styles. Its ability to customize each product with utmost perfection makes each Lucrin creation unique. Heavily influenced by the prestigious watch industry, it pays tribute to high quality and sublime craftsmanship in every piece it produces.
Here we have a large leather organiser that is both elegant and indispensable.The interior consists of 3 pockets for credit cards and weekly sheets in 6 languages. The organizer comes including 1 calendar week on 2 pages, telephone directory, a memo and a block note.The agenda runs from January to December.


If you want a unique agenda that will definitely set you apart from the rest of the crowd, then you have to opt for Gyllium. It is a premium brand that specialises in the design and development of high-end luxury leather accessories and writing materials that are handmade by true artisans. Every Gyllium piece is a piece of art. It is crafted by hand and has gone through the thorough inspection of many craftsmen and mavens before it is delivered in your hands. Each agenda is made of the highest quality genuine leather or fur and refined to the smallest detail. Limited couture collections will be periodically designed, reflecting major fashion trends but carrying the Gyllium essence of exclusivity and splendour. Every Gyllium has a unique serial number that can be found on the hologram sticker and on the Card of Authenticity.
Here we have The Eternal Winter made of genuine black lustrous horsehide fur with monogram details. It is lightly scented with a unique perfume designed especially for the Gyllium brand. On the inside, the delicately tinted pages in the color purple and branded with the Gyllium signature contain the ultimate combination of agenda sections that one would need. The Eternal Winter agenda was recently featured in VOGUE.


It has been more than 120 years since Alessandro Berluti put his name on the House's first pair of shoes. From the very beginning, Berluti has stood apart through its unique combination of technical skill and creative flair, firmly grounded in bespoke know-how. The key to the unique patinas of Berluti is Venezia leather. This exclusive material owes its existence to the genius of Olga Berluti who first developed it using natural and mineral tanning. Berluti is connected with the famous pop artist Andy Warhol who, privately, had a fascination with feet and shoes, an obsession that continued to influence him throughout his career. Therefore, it came as no big surprise, when Warhol stepped into Berluti in 1962 to order a pair of bespoke loafers. The task of bringing Warhol's sketch to life fell on the young Olga Berluti. Her creation, with radical and unconventional lines, thrilled Warhol and today the Andy loafer is an icon and a House classic.
The clever Jagua cardholder is available in several lines and is a true bestseller of the Maison Berluti small leather goods collections. It has one patch pocket, credit card slots, two patch pockets for papers or receipts and a zipped coin pocket.