Love Quotes From the Pages of Famous Books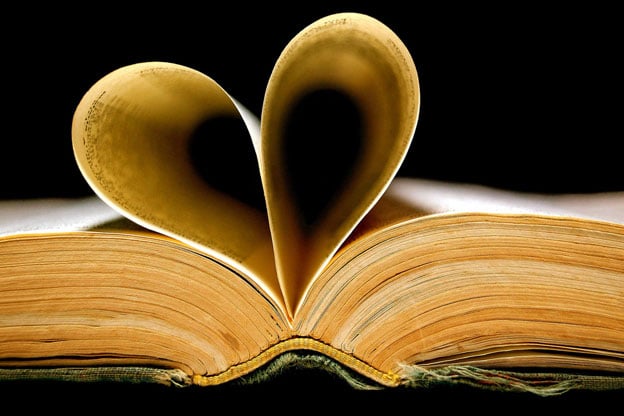 Love is the simplest and at the same time most complicated phenomenon: inexplicable to date and yet being scrutinised since the beginning of time. To get you in tune with the romantic month of February, we offer you some of the best quotes from famous books and authors. Some might make you think and some might seem to read your soul. Which one is your favourite?
"You don't love because: you love despite; not for the virtues, but despite the faults."
~ The Sound and the Fury, William Faulkner
"The one thing we can never get enough of is love. And the one thing we never give enough is love."
~ Henry Miller
"Love is a smoke and is made with the fume of sighs."
~ Romeo and Juliet, William Shakespeare
"We're born alone, we live alone, we die alone. Only through our love and friendship can we create the illusion for the moment that we're not alone."
~ Orson Welles
"Love does not begin and end the way we seem to think it does. Love is a battle, love is a war; love is a growing up."
~ James Baldwin
"The heart was made to be broken."
~The Complete Letters of Oscar Wilde, Oscar Wilde
"He stepped down, trying not to look long at her, as if she were the sun, yet he saw her, like the sun, even without looking."
~ Anna Karenina, Leo Tolstoy
"Love: a single word, a wispy thing, a word no bigger or longer than an edge. That's what it is: an edge, a razor. It draws up through the center of your life, cutting everything in two. Before and after. The rest of the world falls away on either side."
~ Delirium, Lauren Oliver
"I was beginning to believe that a very few times in your life, if you were lucky, you might meet someone who was exactly right for you. Not because he was perfect, or because you were, but because your combined flaws were arranged in a way that allowed two separate beings to hinge together."
~ Blue-eyed Devil, Lisa Kleypas
"I don't ask you to love me always like this, but I ask you to remember. Somewhere inside me there'll always be the person I am tonight."
~ Tender is the Night, F. Scott Fitzgerald
I have a million things to talk to you about. All I want in this world is you. I want to see you and talk. I want the two of us to begin everything from the beginning.
~ Haruki Murakami, Norwegian Wood
Love is not a hot-house flower, but a wild plant, born of a wet night, born of an hour of sunshine; sprung from wild seed, blown along the road by a wild wind. A wild plant that, when it blooms by chance within the hedge of our gardens, we call a flower; and when it blooms outside we call a weed; but, flower or weed, whose scent and colour are always, wild!
~ John Galsworthy, The Forsyte Saga
"I loved her against reason, against promise, against peace, against hope, against happiness, against all discouragement that could be."
~ Great Expectations, Charles Dickens
"The smell of her hair, the taste of her mouth, the feeling of her skin seemed to have got inside him, or into the air all round him. She had become a physical necessity."
~ 1984, George Orwell
"I want to do with you what spring does with the cherry trees."
~ Twenty Love Poems and a Song of Despair, Pable Neruda
"It was love at first sight, at last sight, at ever and ever sight."
~ Lolita, Vladimir Nabokov
"For the two of us, home isn't a place. It is a person. And we are finally home."
~ Anna and the French Kiss, Stephanie Perkins
"He felt now that he was not simply close to her, but that he did not know where he ended and she began."
~ Anna Karenina, Leo Tolstoy
"There is never a time or place for true love. It happens accidentally, in a heartbeat, in a single flashing, throbbing moment."
~ The Truth About Forever, Sarah Dessen
"Whatever our souls are made out of, his and mine are the same…If all else perished, and he remained, I should still continue to be; and if all else remained, and he were annihilated, the universe would turn to a mighty stranger."
~ Emily Brontë, Wuthering Heights
"The way her body existed only where he touched her. The rest of her was smoke."
~ The God Of Small Things, Arundhati Roy
"It is not time or opportunity that is to determine intimacy; – it is disposition alone. Seven years would be insufficient to make some people acquainted with each other, and seven days are more than enough for others."
~ Sense and Sensibility, Jane Austen
"She was more than human to me. She was a Fairy, a Sylph, I don't know what she was – anything that no one ever saw, and everything that everybody ever wanted. I was swallowed up in an abyss of love in an instant. There was no pausing on the brink; no looking down, or looking back; I was gone, headlong, before I had sense to say a word to her."
~ David Copperfield, Charles Dickens
"Her life with others no longer interests him. He wants only her stalking beauty, her theatre of expressions. He wants the minute secret reflection between them, the depth of field minimal, their foreignness intimate like two pages of a closed book."
~ The English Patient, Michael Ondaatje
"We would be together and have our books and at night be warm in bed together with the windows opens and the stars bright."
~ A Moveable Feast, Ernest Hemingway
"I wish I knew how to quit you."
~ BrokeBack Mountain, Annie Proulx
"She is a mortal danger to all men. She is beautiful without knowing it, and possesses charms that she's not even aware of. She is like a trap set by nature – a sweet perfumed rose in whose petals Cupid lurks in ambush! Anyone who has seen her smile has known perfection. She instills grace in every common thing and divinity in every careless gesture. Venus in her shell was never so lovely, and Diana in the forest never so graceful as my Lady when she strides through Paris!"
~ Cyrano de Bergerac, Edmond Rostand
"To love or have loved, that is enough. Ask nothing further. There is no other pearl to be found in the dark folds of life."
~ Les Misérables, Victor Hugo
"I am nothing special; just a common man with common thoughts, and I've led a common life. There are no monuments dedicated to me and my name will soon be forgotten. But in one respect I have succeeded as gloriously as anyone who's ever lived: I've loved another with all my heart and soul; and to me, this has always been enough."
~ The Notebook, Nicholas Sparks
"You and I, it's as though we have been taught to kiss in heaven and sent down to earth together, to see if we know what we were taught."
~ Doctor Zhivago, Boris Pasternak
"Whatever our souls are made of, his and mine are the same."
~ Wuthering Heights, Emily Brontë
"Now, I'm not going to deny that I was aware of your beauty. But the point is, this has nothing to do with your beauty. As I got to know you, I began to realise that beauty was the least of your qualities. I became fascinated by your goodness. I was drawn in by it. I didn't understand what was happening to me. And it was only when I began to feel actual, physical pain every time you left the room that it finally dawned on me: I was in love, for the first time in my life. I knew it was hopeless, but that didn't matter to me. And it's not that I want to have you. All I want is to deserve you. Tell me what to do. Show me how to behave. I'll do anything you say."
~ Dangerous Liaisons, Choderlos de Laclos
"All hopes of eternity and all gain from the past he would have given to have her there, to be wrapped warm with him in one blanket, and sleep, only sleep. It seemed the sleep with the woman in his arms was the only necessity."
~ Lady Chatterley's Lover, D.H. Lawrence
"Love had caught him out of triviality and Maurice out of bewilderment in order that two imperfect souls might touch perfection."
~ Maurice, E.M. Forster
"'Tis better to have loved and lost, Than never to have loved at all."
~ In Memoriam A.H.H., Alfred Lord Tennyson
"You know what I am going to say. I love you. What other men may mean when they use that expression, I cannot tell; what I mean is, that I am under the influence of some tremendous attraction which I have resisted in vain, and which overmasters me. You could draw me to fire, you could draw me to water, you could draw me to the gallows, you could draw me to any death, you could draw me to anything I have most avoided, you could draw me to any exposure and disgrace. This and the confusion of my thoughts, so that I am fit for nothing, is what I mean by your being the ruin of me. But if you would return a favourable answer to my offer of myself in marringe, you could draw me to any good – every good – with equal force."
~ Our Mutual Friend, Charles Dickens
"I cannot let you burn me up, nor can I resist you. No mere human can stand in a fire and not be consumed."
~ Possession, A.S. Byatt
"Grow old along with me! The best is yet to be."
~ Rabbi Ben Ezra, Robert Browning
"Lying under such a myriad of stars. The sea's black horizon. He rose and walked out and stood barefoot in the sand and watched the pale surf appear all down the shore and roll and crash and darken again. When he went back to the fire he knelt and smoothed her hair as she slept and he said if he were God he would have made the world just so and no different."
~ The Road, Cormac Mccarthy
"He was my North, my South, my East and West, My working week and my Sunday rest."
~ Stop All The Clocks, W.H. Auden
"If you live to be a hundred, I want to live to be a hundred minus one day, so I never have to live without you."
~ Winnie The Pooh, A.A. Milne
"You are my heart, my life, my one and only thought."
~ The White Company, Arthur Conan Doyle
"Each time you happen to me all over again."
~ The Age Of Innocence, Edith Wharton
"When you fall in love, it is a temporary madness. It erupts like an earthquake, and then it subsides. And when it subsides, you have to make a decision. You have to work out whether your roots are to become so entwined together that it is inconceivable that you should ever part. Because this is what love is. Love is not breathlessness, it is not excitement, it is not the desire to mate every second of the day. It is not lying awake at night imagining that he is kissing every part of your body. No … don't blush. I am telling you some truths. For that is just being in love; which any of us can convince ourselves we are. Love itself is what is left over, when being in love has burned away. Doesn't sound very exciting, does it? But it is!"
~ Captain Corelli's Mandolin, Louis de Bernieres
"Each time you happen to me all over again."
~ The Age of Innocence, Edith Wharton