History's Greatest Diaries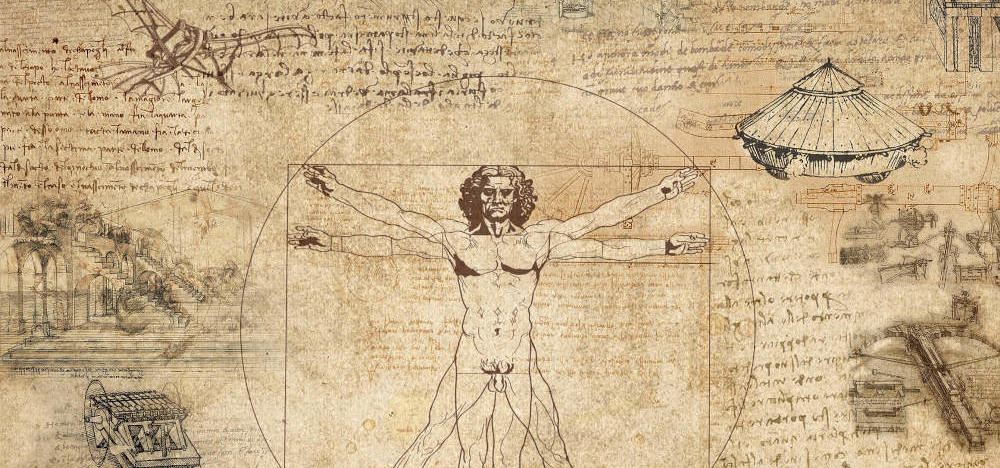 People have been writing in journals for more than a thousand years. One of the earliest recorded works that was something like a diary was that of
Emperor Marcus Aurelius
, ruler of Rome in the second century AD!
There are a host of benefits we can get from keeping a journal. These positive effects prompt us to grab a notebook and scribble down our ideas. Some benefits include: reduces stress, sharpens memory, encourages achievement of goals, improves mood, cultivates mindfulness, and promotes good habits.
Many famous writers, scientists and visionaries of history have kept journals or diaries. For many of them, it is a creative necessity. For others, a place for exploration and for some more is an art form to express themselves.
Read on to check out some journals kept by history's most famous people. We hope they inspire you to keep a journal yourself.
Leonardo da Vinci (1452 – 1519)

If there is one word used to describe Leonardo da Vinci, it is genius. This outstanding and remarkable Italian man is well known as a master painter, sculptor, architect, inventor, and military engineer and his ideas were way ahead of their time.
In his lifetime, da Vinci kept notes of his works or whatever topics that interested him: anatomy, engineering, philosophy, painting, botany, physiology, landscapes, proportion, perspective, architecture, warfare, geography, zoology, light and shade, theories and inventions. He started journaling when he was 26 and continued to write an average of 3 pages a day until his death. It is estimated that he wrote between 20 000 to 28 000 pages of notes and sketches, of which about 7 000 survive today.
When you look at Leonardo da Vinci's journals, you first notice his astonishing sketches; but if you try and read his words, you will discover that the writing seems to be reversed!
The experts seem to agree that Leonardo was left handed; however, he wrote in an unusual way even for a lefty. In most texts, he started writing from right to left and all his letters are invert back to front. This is called
mirror writing
because you can read the text when reflected in a mirror. But that was not all, Leonardo would sometimes combine words and even invent new ones, he didn't use punctuation often and used contractions and shorthand symbols. It is also said that he could simultaneously sketch with one hand and write with the other.
People have wondered if this style of writing was deliberate to keep his notes private and safe (he designed tanks and other warfare machines after all).
Leonardo da Vinci's journals were probably the most valuable work he did for the world. In them he registered not only sketches and art, but science and technique that were way ahead of his time. In his notebooks, da Vinci drew visions of an aeroplane, a helicopter, a parachute, a submarine, a diving suite, a machine gun and a car. It was more than 300 years before many of his ideas were improved upon.
Frida Kahlo (1907 – 1954)
The Mexican artist Frida Kahlo is recognized as one of the most influential artists of the 20th century. She is famous with her vibrant and uncompromising self-portraits and for turning her biography into mythology. Frida's works of art often had themes of death, human anatomy, and personal identity. Her diaries recorded her dreams and thoughts, and there are also poems found within the pages.
During the last 10 years of her life, while her health deteriorated increasingly, Frida kept a journal. But don't expect a regular journal: nothing was regular about Frida. Her diary is like a sketchbook, combining written text with wild vivid illustrations. Within it thoughts, poems and dreams are all mingled with mesmerizing illustrations. It is a free and spontaneous visual documentation of her life, her passions, motivations, disappointments, and desires.
Her diary was locked away after her death in 1954 and only published forty years later, with an introduction by Mexican novelist Carlos Fuentes. The diary was then republished as "The Diary of Frida Kahlo: An Intimate Self-Portrait" by Abrams in a beautiful hardcover edition that retains Fuentes' introduction.
Ahmed Ibn Fadlan (877 - 960)
(Image credit: Gilwellian/Wikipedia)
Rather unknown to the wider public, but quite interesting, are the journals kept by Ahmed Ibn Fadlan. He was a 10th century explorer and writer who documented his travels accompanying an ambassador sent by the Caliph of Baghdad to the king of the Volga Bulghars in what is now Russia. He created one of the earliest written records describing northern Europe and its inhabitants, and provided detailed information about the presence of the Vikings in the region and the emergence of the Russian state, according to a study published in 2000 in the Journal of Arabic and Islamic Studies.
Ibn Fadlan's detailed writings have been cited by numerous historians. They have also inspired entertainment works, including Michael Crichton's novel Eaters of the Dead, which draws heavily in its opening passages on Ibn Fadlān's writing and where Ibn is a major character. Correspondingly, Ibn Fadlan is a character in the 1999 movie adaptation of the novel, The 13th Warrior, where he is played by
Antonio Banderas
.
Charles Darwin (1809 – 1882)
Famed British naturalist Charles Darwin was a dedicated archivist. He kept a "little diary," as he called it, of notable events in his personal and professional life, beginning at the age of 29 by backtracking and recording everything of his life that he remembered up to that point, then continuing to update the diary until months before his death in 1881, the website Darwin Online wrote.
But Darwin's best-known journals are the research notes he kept as naturalist for the ship H.M.S. Beagle, during its voyage exploring the South American coast, from 1831 through 1836. Darwin observed and meticulously noted what he saw of the geology, animals and fossils in every location, and began gathering the first clues that would later form the foundation of his theory of evolution.
In November 2020 Cambridge University Library has announced that two notebooks written by Charles Darwin, worth millions of pounds, have been missing for 20 years. One of them contains the 19th Century scientist's famous Tree of Life sketch, exploring the evolutionary relationship between species. It was written in July 1837, when Charles Darwin was a young man of 28. At his home in London, he wrote at the top of the page of one of his red leather notebooks, "I think". Then he drew a spindly sketch of a tree.
The notebooks were last seen in 2000 when they were taken out to be photographed. Following an exhaustive search, the largest in the library's history, curators have concluded that the notebooks, first listed as missing in January 2001, have likely been stolen. They are have launched a public appeal for help in trying to find them.
Marie Curie (1867-1934)