Gyllium Featured in British Vogue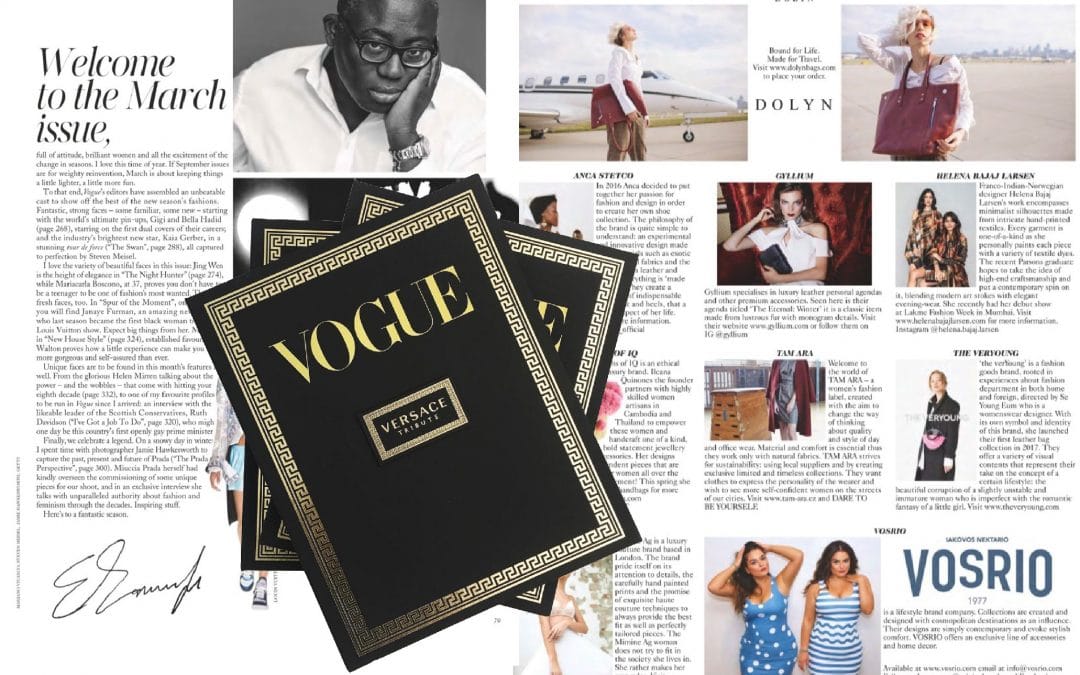 It is our greatest pleasure to announce, that Gyllium brand, after being first introduced in Vogue Arabia, is now featured in the March edition of the British Vogue! The March edition is special in many ways. First of all, it has collector's editions signed by Edward Enninful, Gigi Hadid, Bella Hadid and Donatella Versace and is being sold in these amasing Versace presentation boxes. Inside every box will be a golden ticket and one of them will grant a lucky winner the opportunity to attend Versace's official AW18 show, a stay at Baglioni hotels in Milan and British airways flights.
Furthermore, British Vogue recently got a new editor, Edward Enninful, the first male editor of the magazine. The Ghanaian-born stylist began his career as a fashion director of British youth culture magazine i-D at the age of 18, the youngest ever to have been named an editor at a major international fashion title.
Condé Nast International chairman and chief executive Jonathan Newhouse announced Enninful as the successor to Alexandra Shulman, calling him "an influential figure in the communities of fashion, Hollywood and music which shape the cultural zeitgeist", adding that "by virtue of his talent and experience, Edward is supremely prepared to assume the responsibility of British Vogue". The first Vogue cover produced under Edward Enninful has signaled the new editor's mission to make political statements, not just fashion ones. He was praised for his inaugural issue of British Vogue, which has shone the spotlight on diversity in politics, art and culture.
The March issue of the British Vogue is traditionally the biggest issue of the year as it is on sale during the world's fashion month and details the upcoming trends for the year. Alexandra Shulman, the former editor of the magazine, once said that, "Vogue's power is universally acknowledged. It's the place everybody wants to be if they want to be in the world of fashion".
The British edition of the "fashion bible", as the magazine is called, has been published since autumn 1916. During the First World War, Condé Nast, Vogue's publisher, had to deal with restrictions on overseas shipping as well as paper shortages in America. The British edition of Vogue was the answer to this problem, providing Vogue fashion coverage in the British Isles when it was not practicable to receive it in the usual way.
Gyllium is featured in The Designer Profile pages, which are designed with the intention of showcasing a range of hand selected upcoming designers to provide Vogue 's 1.3 Million readers with exclusive inspiration.